Why people like us?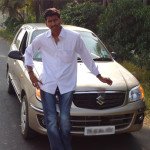 I have modified my Alto K10 car with Shree Vari Engg. Work on Feb '2012. From the first meet to still, i feel very comfort with their services and I never felt anything bad in my everyday travel. Even I have travelled to Hills, Forests with my Alto, its all satisfied by the intelligent semi automatic system. I trust them a lot and surely recommend to others.-
Karthik SWOT
,
Software Entrepreneur
&
Wildlife Photographer
,
Tiruchirappalli, Tamilnadu.
The feel of fly!
Expert Talks!